Piranha Fiber LASER Cutting Machine L510
When shopping for a thermal cutting machine, the most important step is determining the best cutting technology for your application. At Piranha, we offer all levels of cutting technology from air plasma tables, HD plasma tables, and fiber LASER from 1 to 12kw. Please see our Thermal Metal Cutting Technology Comparison or contact us today for more details and to determine the best machine for your needs.
Let's take a look at the L Series Piranha Fiber LASER and some of the standard high end features included on this economically priced fiber LASER cutting machine.
Piranha Fiber LASER Cutting Machine L510
Piranha L510 Fiber LASER cutting machines are built with reliability and economy in mind. These tough machines use proven technology to ensure precision and reliability throughout their service life. This special combination of durability and cost efficiency provides maximum value for steel processors.
Name Brand LASER Components Including:
IPG Resonator, durable Laser Mechanisms cutting head built in Novi, MI, Yaskawa drives and motors, Hiwin Linear ways, and Schneider electronics.
Easy to Use CNC Control:
The Piranha L-510 fiber LASER uses an operator friendly, graphics-based CNC control that includes dxf file input, automatic nesting, part tabbing, common line cutting, and many more features integrated directly in the CNC Control.
Piranha L510 Fiber LASER Standard Features:
Laser Mechanisms durable cutting head
Helical Rack and Pinion Positioning System
Windows CNC Control
Hypertherm ProNest LT 2019 Offline Programming Software
Red Diode Laser Pointer
Automatic Lubrication System
Automatic Cutting Gas Control and Proportional Valve (Supports Nitrogen, Oxygen, and optional air cutting.)
61.5" X 122" Cutting Area
IPG LASER Resonator
1.0 kW, 1.5 kW, 2.0 kW or 2.5 kW Fiber LASER Power
3,150 IPM (80 m/min) Maximum Travel Rate per Axis
Shuttle Table with Two Pallets
Dust Collector
The trusted Piranha Perfect Machine build, inspection and installation process
All backed by the #1 name for customer satisfaction in the industry – Piranha. So give us a call today and we can help decide which Piranha is right for you.
SPECIFICATIONS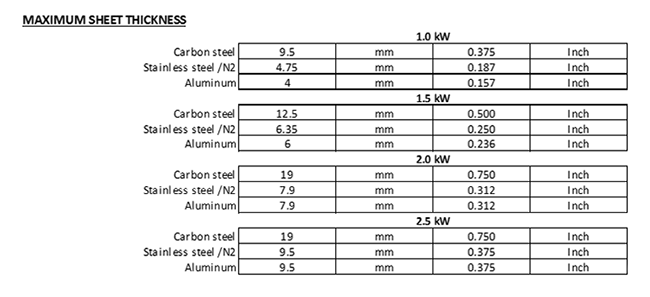 Machine Finance/Leasing
Piranha Tooling
Piranha Support Documents
Piranha Training
Employment Opportunities
Contact Piranha
© Copyright 2019 Mega Manufacturing, Creators of the Iconic Piranha Hydraulic Ironworker Machine - All Rights Reserved
Trademarks displayed on this page are the sole property of their respective owners.