Piranha Tooling for Hill-ACME Ironworker Machines
Genuine Piranha replacement tooling for Hill-ACME Ironworker Machines. Standard sizes of tooling are in stock and available for same-day shipment. All standard shapes of non-stock tooling will ship within 48 hours, regardless of size. We know that fast delivery is important to you, and we have created manufacturing methods to provide you with the fastest delivery in the industry.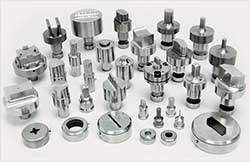 HILL-ACME™ MACHINES
Model
Uses Punch
Uses Die
#3 Combination
PX
HH HC
#3, #30, MW30
DE
HH HC
#3A, #4, #4 Combination
EA
HH HC
#4A, #5, #50, MW50, #6, #6A
EA
JC
HC HH
#7, #7A, #7 Combination
EF
JF HH
Dies for Hill-ACME™ Machines
Request More Information and Price Quote
Use what our team knows about metal fabrication to help you improve your production performance and increase your profitability.
Call 800-338-5471 or click below to request product information, professional consultation, and a price quote.
Unbeatable quality at an affordable price. That's Piranha.
Piranha Tooling
Piranha Documentation
Piranha Video Archives
Piranha Training
Finance/Leasing
Employment Opportunities
Contact Piranha
Trademarks displayed on this page are the sole property of their respective owners.
© Copyright 2018 Mega Manufacturing, Creators of the Iconic Piranha Hydraulic Ironworker Machine - All Rights Reserved