Piranha Special and Custom Tooling
Piranha is proud to offer solutions for an extraordinary variety of tooling needs. Our custom tooling and special tooling offerings are designed to keep you on time and on budget.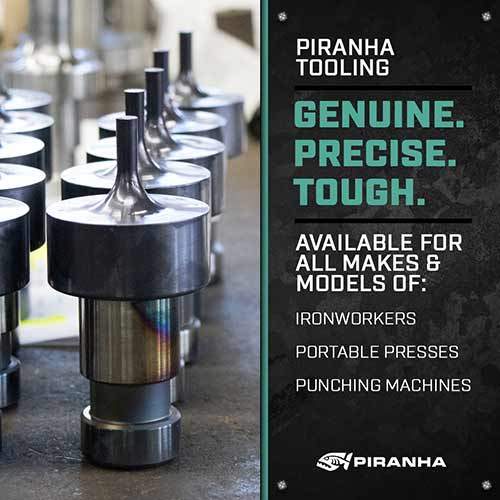 Custom Tooling
Sometimes, a unique application requires custom tooling and accessories. We welcome the challenges associated with making unique tools that allow you to do those special applications. Whether the challenge is a special shaped punch, a unique formed hole, or an accessory that bends a unique section, we have the talent to design and build the tools to meet your needs.
We appreciate the opportunity to serve you, and we welcome the chance to earn your business. While our fast delivery may earn us your first order, our strong customer service and the high quality of our product may be the reason you decide to keep us as your preferred supplier.
Special Tooling
Piranha special tooling adds production flexibility for economical metal forming and marking. Features such as countersinks, louvers, tread plate, dimples, beads and part markings are done quickly and easily without secondary operations.
Tooling can also be developed in a nearly endless variety of shapes specific to your application needs. Punches and dies manufactured to your specifications are thoroughly tested under shop conditions to verify the design and ensure value for your investment.
Our Design Engineers know the machines and assist you with the best tooling design for accuracy, speed and durability.
Request More Information
Use what our team knows about metal fabrication to help you improve your production performance and increase your profitability.
Call 800-338-5471 or click below to request product information, professional consultation, and a free quote.
Unbeatable quality at an affordable price. That's Piranha.
© Copyright 2017 Mega Manufacturing - All Rights Reserved