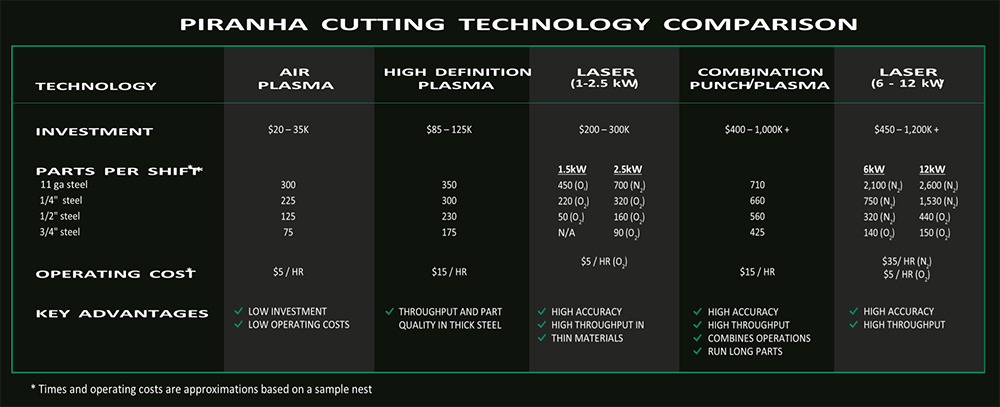 Thermal Metal Cutting Solutions: Plasma vs LASER vs Combination
Piranha offers multiple thermal metal cutting methods to meet your needs. There are often multiple methods that will work, but there is always a good, better, and best thermal cutting method based on many factors. That's why our factory representatives and engineers are here to help you discover the best solution for your operation.
Piranha solutions include our tough yet affordable C-Series plasma tables, precision HD Plasma tables, 1kW to 2.5kW L-Series fiber LASERs, powerful PlateLASER fiber LASER, and incomparable multitasking Piranha combination machines.
Piranha's industry experience and our comprehensive time studies can often reveal solutions to save you a great deal of time and money.
Request More Information and Price Quote
Use what our team knows about metal fabrication to help you improve your production performance and increase your profitability.
Call 800-338-5471 or click below to request product information, professional consultation, and a price quote.
Unbeatable quality at an affordable price. That's Piranha.
Piranha Tooling
Piranha Documentation
Piranha Video Archives
Piranha Training
Finance/Leasing
Employment Opportunities
Contact Piranha
Trademarks displayed on this page are the sole property of their respective owners.
© Copyright 2018 Mega Manufacturing, Creators of the Iconic Piranha Hydraulic Ironworker Machine - All Rights Reserved