Piranha Hydraulic Plate Shears
Piranha hydraulic guillotine shears are available for reliable plate shearing from 1/4 inch all the way up to one inch plate.
Below are a few points to consider about our lines of hydraulic shears, along with specifications for each.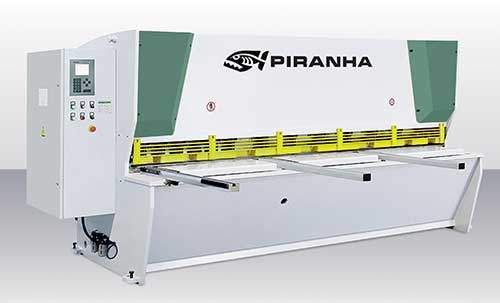 Request More Information and Price Quote
Use what our team knows about metal fabrication to help you improve your production performance and increase your profitability.
Call 800-338-5471 or click below to request product information, professional consultation, and a price quote.
Piranha Hydraulic Guillotine Shears
High Precision Hydraulic Guillotine Shear with 3-point Roller Gib System
39″ Standard Back Gauge Travel
High Quality Alloy 2-piece Blades for Long Life
Delem DAC-360 Control
CNC Controlled Blade Gap
CNC Controlled Rake Angle
Leuze Light Curtain/Photocell
3 Front Sheet Supports
Backgauge AC Servo w/Ball Screw
Bosch (Rexroth) Hydraulics
Metal Shearing from 1/4″ to 1″ Thickness
Piranha Shears and Press Brakes: The Perfect Machine
The Perfect Machine is Our Promise
As part of our Perfect Machine Process, every Piranha-Whitney shear or press brake is rigorously inspected in our Rockford, Illinois, facility–so that it's ready for seamless installation in your shop.
Piranha Tooling
Piranha Documentation
Piranha Video Archives
Piranha Training
Finance/Leasing
Employment Opportunities
Contact Piranha
Trademarks displayed on this page are the sole property of their respective owners.
© Copyright 2018 Mega Manufacturing, Creators of the Iconic Piranha Hydraulic Ironworker Machine - All Rights Reserved