CNC Fabricators
Value Proposition: Our Precision CNC Fabricators are high quality machine tools, backed by Piranha's in-house experienced and professional customer service and application personnel. We will stand behind each product and ensure that your buying experience exceeds your expectations.
CNC Fabricators – Single Punch with 2-axis Gauging
Up to 445 kN (50 tons) of hydraulic power and 12 mm (1/2″) material
Hole sizes up to 125 mm (5″)
X-axis length up to 3655 mm (144″)
Y-axis depth up to 1220 mm (48″)
Plain English programming
+/- .125 mm (.005″) accuracy, +/- .075 mm (.003″) repeatability
Metric or English measurement
Structural shape punching capability
Off-line programming and storage software – optional on 1000 Series
28XX tooling
3-hour install with 1524
3-day install with 1000 Series Fabricators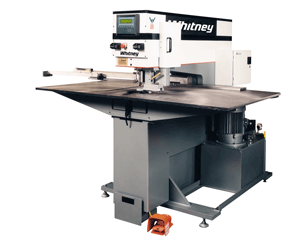 Request More Information
Use what our team knows about metal fabrication to help you improve your production performance and increase your profitability.
Call 800-338-5471 or click below to request product information, professional consultation, and a free quote.
CNC Fabricator Features
Hydraulic Punching Power
Hydraulic system provides the advantage of shock-free,full-tonnage power throughout each stroke.
50 Ton punching capacity
Holes to 5″ diameter
Punch materials to 1/4″ thick with standard strippers
Punch materials to 1/2″ thick with optional strippers
Use standard 28XX tooling
Stroke length adjustment easily accessible to provide most efficient stroke for material thickness
Forming Capabilities
Optional pressure switch cycle control allows forming and shaping of standards and specials.
Louvers
Countersinks
Knockouts
Extrusions
Coins
Specials
Angle/Channel Iron Option
Special stripper and punch adapter assembly convert the 1524 CNC for fabricating angle and channel iron.
Requires no machine modification
Easily installed
Includes point of operation guarding
Clears 3″ leg up
Panelgage 1000M CNC Control
Operator-friendly, machine-mounted control requires no special training for programmers.
Multiple part program storage in nonvolatile memory—200 programs (estimated)
Additional storage easily added using PC
Full program review, edit and manual display
Conversation-type, plain English programming
Optional offline programming and translation (for existing Panelgage programs) software for your PC
Simple Canned Cycle Programming
Six canned cycles simplifies programming. Enter the coordinates and pattern from the part drawing and the control establishes the location of each punch cycle.
Fast, Easy Installation
Trouble-free installation typically handled by purchaser. Installation assistance available as an option.
Lift off transport and set in place
Level and secure to floor
Connect to electrical power sources
Home axes and align punch and die
| MODEL 1524 | MODEL 1530 | MODEL 1548 |
| --- | --- | --- |
| 445 kN (50 tons) | 445 kN (50 tons) | 445 kN (50 tons) |
| 610 mm (24″) Y-axis | 760 mm (30″) Y-axis | 1220 mm (48″) Y-axis |
| 915 mm (36″) X-axis | 1830 mm (72″) X-axis | 1830 mm (72″) X-axis |
| 1630 mm (72″) X-axis option | 3050 mm (120″) X-axis option | 3050 mm (120″) X-axis option |
| – | 3655 mm (144″) X-axis option | 3655 mm (144″) X-axis option |
| 1000M Series Control | 1000M Series Control | 1000M Series Control |
| Installation CD-ROM | – | – |
© Copyright 2017 Mega Manufacturing - All Rights Reserved